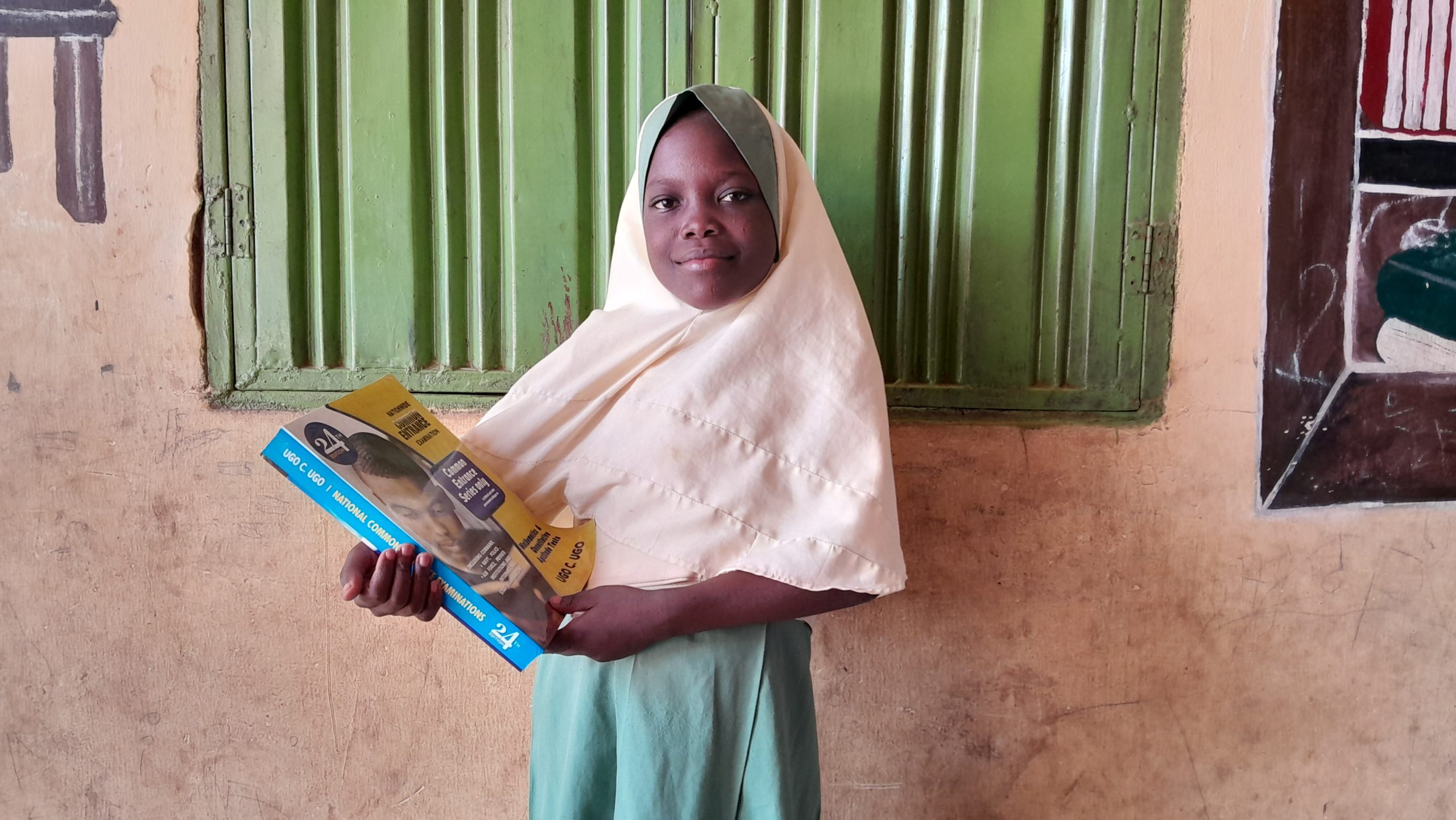 Within the dynamic cityscape of Ilorin West LGA, not far from the magnificent Ilorin Central Mosque, one young scholar stands head and shoulders above the rest—Ganiyat Soliu. Aged merely eleven and a primary six pupil attending a KwaraLEARN School – Sholagberu LGEA School – Ganiyat's unwavering commitment to her academic pursuits has earned her unmatched recognition. Emerging as the highest achiever in a rigorous assessment reserved for exceptional pupils, she solidified her position as the top performer in Ilorin West Local Government.
A Passion for Learning:
Ganiyat's thirst for knowledge knows no bounds. With an insatiable curiosity and an innate love for learning, she embraces every opportunity to expand her horizons. English language holds a special place in her heart, and she excels in understanding the intricacies of its grammar and structure. Parts of speech have become her favourite topic, and she tackles English comprehension passages with ease. Ganiyat's voracious appetite for reading and her affinity for storybooks make her a true literacy enthusiast.
A KwaraLEARN Star:
Ganiyat's remarkable achievement in Ilorin West LGA is a testament to her unwavering commitment and exceptional abilities. Among a pool of talented students in Ilorin West LGA, she emerged as the frontrunner, showcasing her exemplary knowledge and skills. This recognition not only validates her hard work but also highlights her potential to accomplish great things in her educational journey. Ganiyat's success serves as an inspiration to her peers, encouraging them to strive for excellence.
A Different Kind of Playground:

While some children spend their leisure time playing games or engaging in outdoor activities, Ganiyat's playground is filled with the wonders of literature and knowledge. Her free time is devoted to delving into the enchanting worlds within the pages of books. Whether she's immersed in captivating storybooks or engrossed in her school materials, Ganiyat's passion for reading and studying is her gateway to exploration and growth. Her dedication and discipline set her apart as a young scholar driven by intellectual curiosity.
Dreams of Healing and Nurturing:
Ganiyat possesses dreams as vast as her ambitions. With aspirations to become both a doctor and a farmer, she envisions a future where she can make a meaningful impact on her community. Inspired by her parents' occupations—a farmer and a petty trader—Ganiyat sees herself combining their roles, healing the sick as a doctor while nurturing the land as a farmer. Her dreams reflect a compassionate soul and a desire to contribute to society in multiple meaningful ways.
The Power of Inspiration:
Ganiyat's most cherished memory is a testament to the impact one person can have on a young mind. On a fateful day, Honourable Muktar Tolani Shagaya, a Member of the Federal House of Representatives, paid a visit to her school. Ganiyat, known for her exceptional skills in English, was chosen to deliver a speech welcoming the distinguished visitor. It was a moment that left an indelible mark on her, igniting a fire within her to strive for greatness.
A Supportive Network:
Ganiyat's journey wouldn't be possible without the support of her loving family, dedicated teachers, and the nurturing environment of her KwaraLEARN School. Their encouragement and belief in her abilities have played a vital role in fostering her academic success. With their guidance, Ganiyat has cultivated a sense of responsibility towards her classmates, always ready to lend a helping hand and share her knowledge whenever her peers require assistance.
Ganiyat Soliu's remarkable achievements as the top performer in Ilorin West LGA exemplify her extraordinary dedication to education and the pursuit of knowledge. Through her passion for learning, she has carved a path of excellence and serves as an inspiration to students far and wide. Ganiyat's story reminds us that with determination, unwavering support, and a love for learning, we can overcome any obstacle and achieve greatness. As she continues on her educational journey, Ganiyat's dreams of healing and nurturing serve as a beacon of hope, reminding us all of the power education holds in shaping a brighter future for individuals and communities alike.
Inspired by Ganiyat's story? You too can make a difference. Consider enrolling your child or informing your neighbours, friends, relatives and community at large to enrol their ward in a KwaraLEARN school; it's free of charge.
Together, we can continue to illuminate the path to success for generations to come.